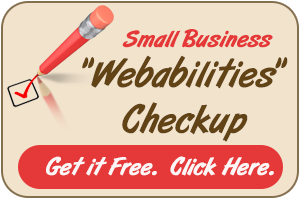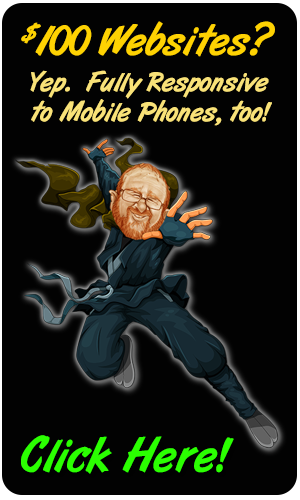 Client Video Testimonial
Hi. My name is Larry Vellucci. I am providing the video testimonial below for one reason alone: gratitude. My experience with Doug (The Website Guy) and (Best Way Websites) Port Angeles Website Services is all good.
I happily and enthusiastically endorse everything Doug says and does. I have learned over the last few years that EVERYTIME I listen to Doug's advice ... I make more money as a result!
Thanks, Larry!
(Larry is only saying what he does
because it is true
. I know what I'm doing. I can help you grow your business via your website. I can help you attract more clients, increase their satisfaction, & make more money!)
Doug, "The Website Guy"
Visit Larry's Site:
Self Defense Videos
---------------------
Books by Doug Nevill,
the Website Guy!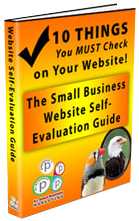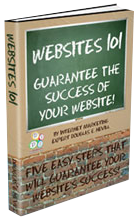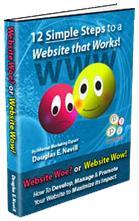 Affordable Local Search Marketing Program
---

Did You Know You Can Have an Affordable Local Search Marketing Program, Provided Locally?
Most small business owners are SHOCKED by this one

.
Many of them are paying $300 or more for programs sold by phone companies and others ... which is a SCAM.
One of my clients was paying over $500 for local search service before learning about my service!
If your business's target audience is LOCAL, then you NEED a local search marketing program.
But you don't need to pay multiplied HUNDREDS of DOLLARS for it!

Ours is just $100 per month on a 1 year agreement

OR, pay in advance for $1,000 for the year and save an additional $200!
Our Basic, Local Search Marketing Program

Our Enhanced, Local Search Marketing Program

Trends that are Significantly Impacting Your Business NOW
There are three internet marketing trends that are growing steadily and dramatically, and they compliment one another:
Local Search (Geo Targeted)
Mobile Search (Searches using mobile devices and connecting to dozens of different mobile service directories)
Continual addition of new mobile / local internet directories and apps.
The development and growth of local and mobile search and the proliferation of new directories and apps is why it makes sense to outsource the management of your business' search listings.
Problem #1: Frustrating, Inaccurate Listings
Some of your business information is public and you were probably not the source of the data entry. If you have ever saw a listing for your company and the phone number or address was incorrect, that is why.
We can locate and correct inaccurate listings.
Problem #2: Confusing, Duplicate Listings
In this case, you may have one listing that is correct or mostly correct and one or more others that are duplicates that are incorrect. Duplicate listings cause confusion. Browsers don't know which to use, so they will often select another that is a single listing.
We can ensure you have a complete and accurate listing and remove the confusing duplicates.
Problem #3: Devastating, Missing Listings
Perhaps worst of all - you are simply not found!
We can create a listing for you and PUSH it out to our data distribution network.
Problem #4: Stale (Outdated) Content in Listings
Things change in every business, and those changes need to be reflected in your online listings. Got some changes to post? Just complete our online request form and we'll get them updated for you! - No extra charge!
We refresh your listing each and every month.
Problem #5: Lack of Content Relevant Links from "Valuable" Sources
Problems 1-4 listed above have to do with what could be considered "impulse" purchases.
Internet marketing has not been solely about traditional SEO for a long time, but the need for traditional or conventional SEO has not gone by the way side.
It is simply harder to get good links, couched in relevant content (considered authoritative links) to point back to you.
That is where our additional service comes in! Contact us for more information.
For Your Company, We Provide:
Accurate Information
Updated Each Month
Our Extended Network
DIY?
Yes, you can. You can drill your own teeth, too, but having a dentist do it for you is a better idea!
DIYing It will take you 20 - 30 minutes for each listing.
Do the math. We will use 25 mins as an average.
25 mins X 300 publishers = 7,500 mins / 60 mins = 125 hours!
Monthly Updates, Checks & Improvements?
Hours each month.
You'll never do it.